Classic Galapagos: Central Southern Islands (Grand Queen Beatriz)
on Grand Queen Beatriz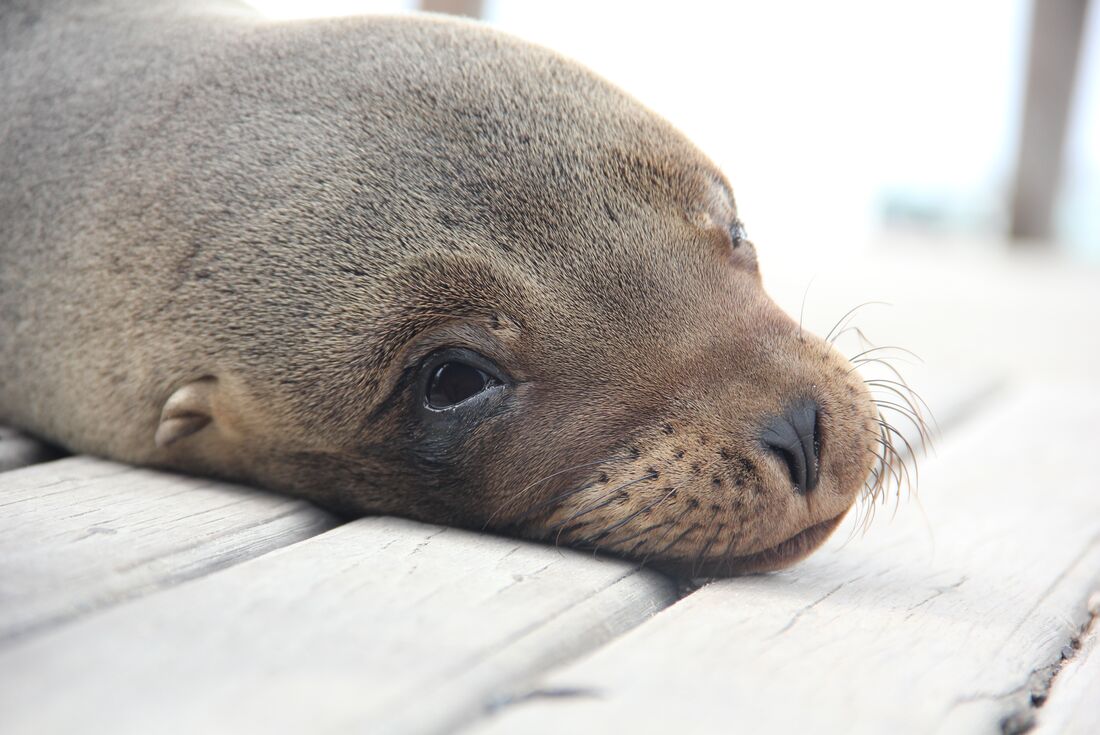 Classic Galapagos: Central Southern Islands (Grand Queen Beatriz)
Set sail on a 10-day expedition around the central and southern islands of the Galapagos, observing the unique wildlife of these remote Pacific islands. Be charmed by the native bird species, be amazed by an underwater ecosystem of colourful marine life and be delighted by its distinct environment. Hike across lava flows, sail through mangroves, and snorkel in natural aquariums abundant with fish, sea lions and turtles. This sail features an itinerary of some of the Galapagos's most picturesque islands, so sit back and relax, because it's all smooth sailing from here.
Activities
Isla Santa Cruz - Highlands Visit (1.5 hours) - Dry Landing
Isla North Seymour - Walk (2 hours) - Dry Landing
Isla North Seymour - Snorkelling (1 hours)
Isla Mosquera - Snorkelling (1 hour)
Isla Mosquera - Beach Walk (1.5 hours) - Wet Landing
Isla Santa Cruz - Black Turtle Cove - Panga ride (1.5 hours)
Isla Santa Cruz - Cerro Dragon - Walk (1.5 hours) - Dry Landing
Isla Santa Cruz - Cerro Dragon - Snorkelling or swimming (1 hour)
Isla Santiago - Sombrero Chino - Snorkelling (1 hour)
Sombrero Chino - Walk and Panga ride (2 hours) - Wet Landing
Isla Rabida - Snorkelling (1 hour)
Isla Rabida - Walk (1.5 hours) - Wet Landing
Isla Santa Cruz - Punta Carrion - Snorkelling (1 hour)
Isla Isabela - Las Tintoreras visit (1.5 hours) - Dry Landing
Isla Isabela - Arnolda Tupiza Tortoise Breeding Center including Flamingo Lagoon (2 hours) - Dry Landing
Isla Floreana - Post Office Bay - Walk (1.5 hours) - Wet Landing
Isla Floreana - Punta Cormorant walk (1.5 hours) - Wet Landing
Isla Floreana - Devil's Crown snorkelling (1 hour)
Isla Floreana - Post Office Bay snorkelling (45 mins)
Isla Santa Cruz - Charles Darwin Research Station (1 hour) - Dry Landing
Highlights
Experience the benefits of small group travel aboard your vessel, M/Y Grand Queen Beatriz, sailing through the natural beauty of the Galapagos, day and night.
Explore the islands on deck, on foot and in the water, waking to a new view each morning, and keeping an eye out for the next bird sighting or sea turtle passing by.
See the contrasting Galapagos landscapes between islands, from the unique formation of Sombrero Chino to the colourful sands of Isla Rabida.
Learn a thing or two about 18th century whalers at Post Office Bay, and participate by posting a letter at the remote mail drop.
Encounter the unique Galapagos wildlife in their natural habitat, from giant blue-footed and masked boobies, pelicans and frigate birds to iguanas, sea lions, tortoises and fur seals.
About Grand Queen Beatriz
We get it – travel's a big decision. It's not every day you fly across the world to wander the souks of Marrakech or enjoy a dreamy Angkor sunrise. But for us, it's been our everyday for the past three decades (whew, we're old). Let's just say we know what travellers really want: a balance of inclusions and free time, a mix of classic highlights and local secrets you won't find on Google. And of course, an authentic real life experience.

Our leaders are born and raised in-country, and they know their destination better than anyone. So you'll do more than just see a place, you'll live it. Small groups, big adventures and responsible travel – that's our thing. With 1,000 trips in a variety of styles across 100 countries, we're sure you'll find something you like. So let's get started.

1. Real life experiences
What is travel but a search for something that can't be Googled? We love the highlights, but the real magic for us happens well away from a beaten path. It's the little noodle bars, hidden galleries and backstreet bodegas and real life experiences you won't find in a search engine.

2. Connected by travel
The beauty of small group travel isn't just new places, it's new perspectives. It's the stories you hear and the friendships you forge, the ones that stick around long after the tan has faded. Our travellers come from all walks of life; what unites them is where they're going.

3. Travel works best when it's balanced
Time is your most precious resource, especially on a holiday. That's why our trips are built with balance in mind. A little group time, a little you time – the way it should be. And because our tours have an average of just 10 people, there's more of the world to go round.

4. With great travel comes great responsibility
The world's a pretty amazing place, and we want to do our bit to keep it that way. And all it takes is a little dash of self-awareness, a slightly softer tread. Sustainable travel doesn't mean no fun. It means that fun can be used to benefit others. Respect.

5. Adventure should be for everyone
Age, pillow preference, budget, travelling solo or together – it doesn't matter where you're from, what matters is where you'd like to go. Our mission is to deliver the best travel experiences to anyone who's up for them. So no matter if you favour a soft landing or a wild take-off, Intrepid stands for you.

6. Our leaders are the greatest
We realised early on that the best folks to show you the heart of a destination are, funnily enough, the ones that live there. These are our leaders: travel experts and friendly locals who know their countries back to front, from every backstreet bar to every hidden gallery. They're the big, smiling face of Intrepid (and we couldn't be prouder).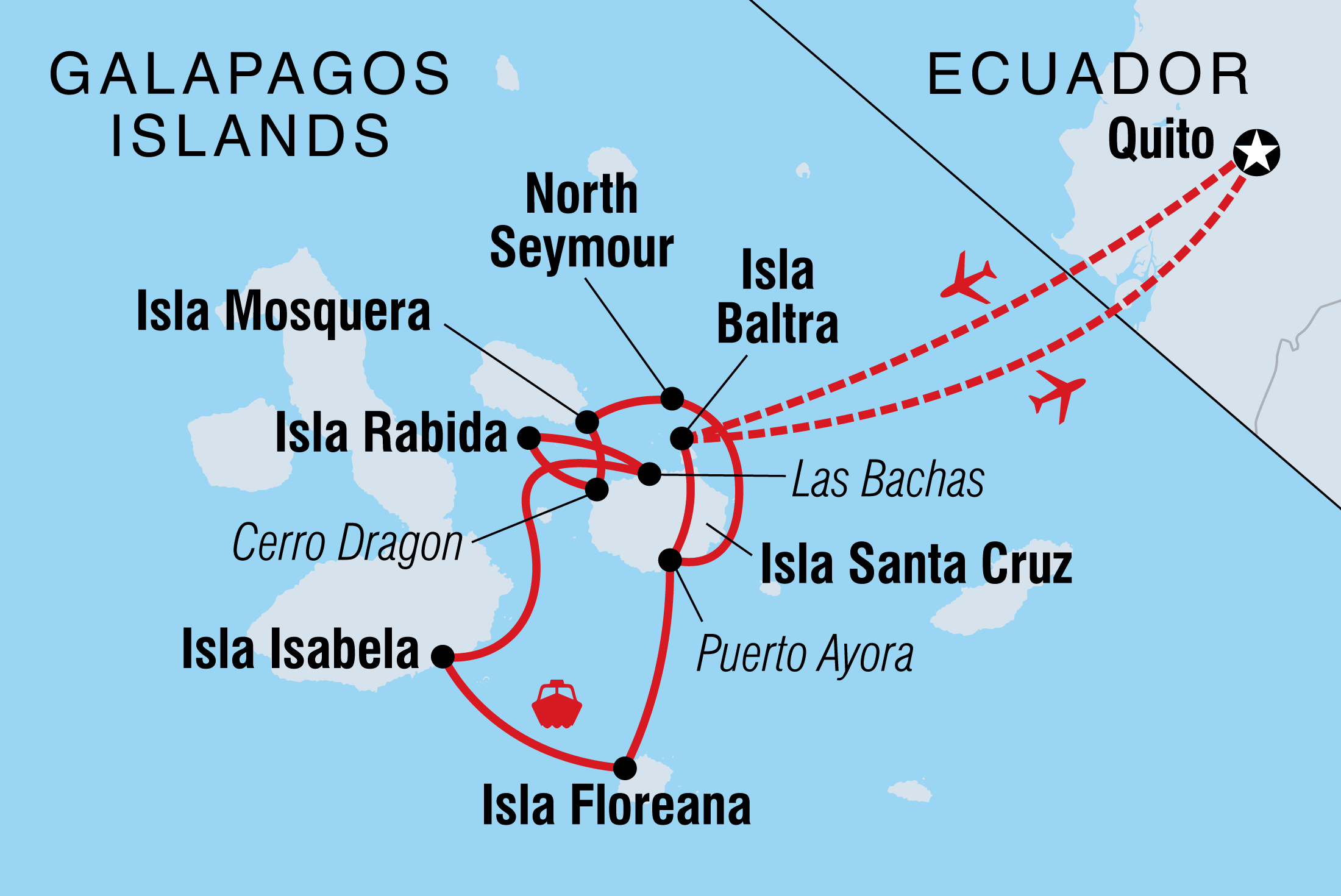 Day
Destination
1
Quito
2
Baltra - Isla Santa Cruz
3
North Seymour - Isla Mosquera
4
Black Turtle Cove - Cerro Dragon.
5
Isla Rabida - Sombrero Chino
6
Punta Carrion - Bachas Beach
7
Isla Isabela - Las Tintoreas - Giant Tortoise Breeding Centre
8
Isla Floreana - Post Office Bay - Devil's Crown - Punta Cormorant
9
Isla Santa Cruz - Quito
10
Quito